How to E-file Form 7004 for Tax Year 2022 with ExpressExtension
Check out this step-by-step guide to filing Extension Form 7004 for TY2022!

|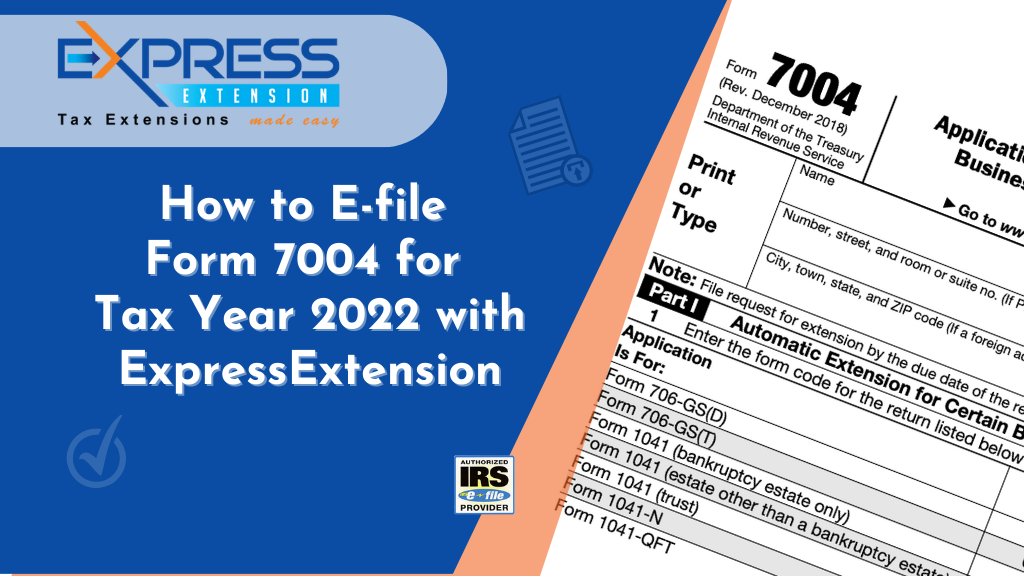 For businesses operating on a calendar tax year, the deadlines to file Form 1120-S (S-Corporation Tax Return), Form 1065 (Partnership Tax Return), and a few other business tax returns are March 15, 2023.
If you need more time to file your business tax return, ExpressExtension is here for you!
With ExpressExtension, the industry-leading IRS-authorized e-file provider, you can file Form 7004 for up to 6 additional months of filing time.
Follow these steps to complete your 7004:
Log in to your ExpressExtension account.
2. Click "Start New Business Tax Extension (Form 7004)", if you are required to file an extension for one business. If you need an extension for multiple businesses, you can choose to bulk upload your 7004 data.
3. Add your business details, business address, and primary business contact, then click "Next":
4. From the dropdown, select the form that you want to request an extension for.
For example, if you are operating an S-Corporation, you are required to select Form 1120-S. 
Similarly, if you are operating a Partnership business, you are required to select Form 1065.

5. Follow the type of tax year that your business follows. If you follow the calendar year, select this option. If your business follows a different fiscal year, provide the start and end dates.
6. Enter the estimated amount of taxes that your business owes for this tax year. If you don't owe any taxes, check the box to indicate this and proceed.
7. Select the payment method you prefer to make your tax payment to the IRS. You have the option to choose either Electronic Fund Withdrawal (EFW) or Electronic Federal Tax Payment System (EFTPS).
8. Review the details you have entered. At this point, you can still edit any details as needed.
9. Our built-in audit check will review your form for errors, if any errors are identified, you can edit them before proceeding.
10. Finally, Complete the payment, review the form summary, and click "Pay and Transmit" to send your form to the IRS.
Once transmitted, we will notify you by email about the IRS status of your extension. The status updates are also available directly in your ExpressExtension account.
If you need any assistance during the filing process, feel free to reach out to our live customer support team!
Ready to e-file your Form 7004?