ExpressExtension is now Accepting Form 7004 for the 2021 Tax Year
|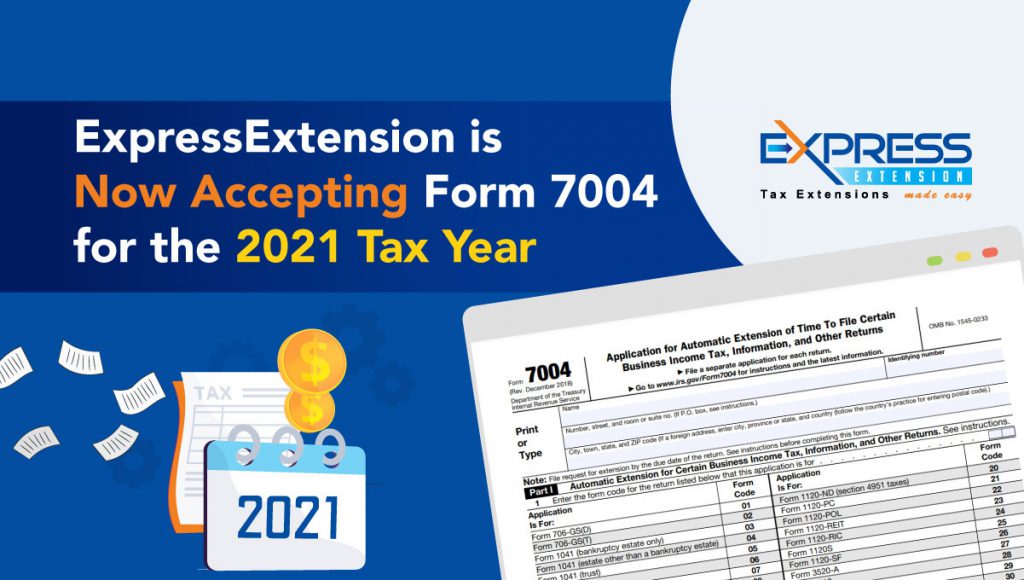 Businesses that need additional time to complete their business tax forms for the 2021 calendar tax year can now do so with the help of ExpressExtension!
Form 7004 provides an automatic extension to business owners for 6 months.
Form 7004 is a simple form with a simple purpose that applies to many business tax forms. Here's what you need to know to file your Form 7004 like a pro.
What types of Businesses can file a Form 7004
Form 7004 applies to business entities that are required to pay business income taxes and file an information return to the IRS. Some of these entities include:
A Corporation
An S Corporation
A Partnership
A Multiple-member LLC
What Forms does the extension apply to?
Form 7004 can be applied to a variety of tax forms, but it is most commonly filed for the following business tax returns:
Are Tax Payments Extended by 7004?
No, you still have to make your estimated tax payments by the original deadline, even if you have filed an extension.
All tax extensions, including Form 7004, apply only to the information return itself. The IRS still requires that you make your estimated payment to avoid any penalties.
How to File Form 7004 with ExpressExtension
ExpressExtension takes all the guesswork out of filing your extension, e-filing form 7004 with ExpressExtension is simple and straightforward. To begin the process, simply sign in to your existing account or create a free account today!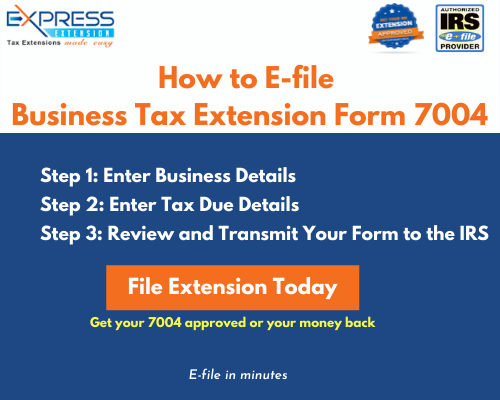 Once you have signed in, there are only three simple steps left to e-filing!
Choose your business type and extension form
Select the tax year and enter your payment details
Review and transmit your extension to the IRS
ExpressExtension E-filing Features
You can take advantage of these great features when filing with us, whether you are a filing for your business or a tax professional filing for your clients, the e-filing process offers time-saving options!
IRS Status Updates
Secure Bulk Upload Options
Volume Based Pricing
Our Express Guarantee – Get your 7004 Extension approved or Your Money Back
Options to pay balance tax due (EFW / EFTPS)
File from any device
Re-transmit rejected returns for free