File Your Extension 4868 Hassle-free and Risk-free with Express Guarantee
Your form accepted or your money back!

|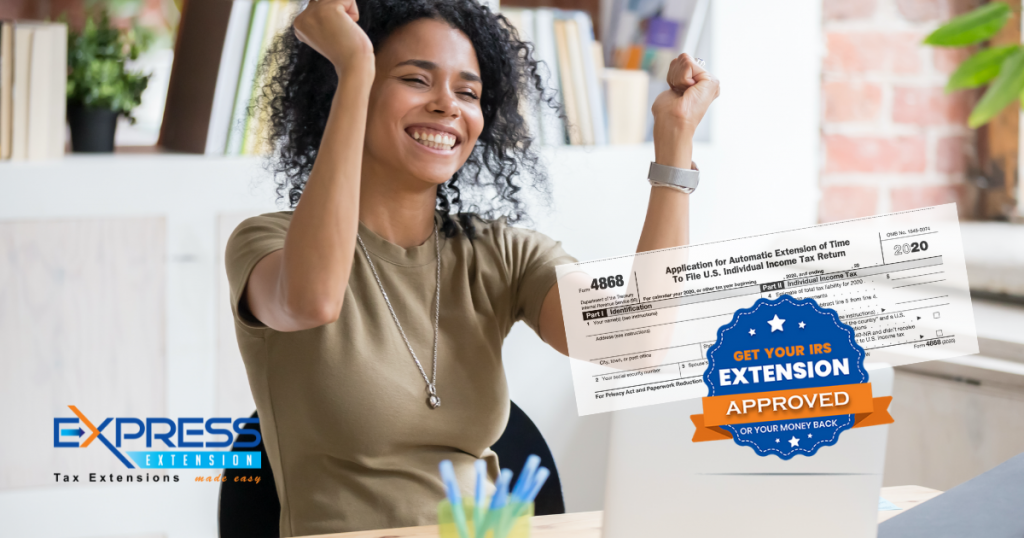 There is no doubt that 2020 has been the most stressful year in many of our lives. We all know that filing your taxes is extremely stressful as well. That's why ExpressExtension is here. We help our clients ease the stress of filing their taxes by filing an extension.

If you need more time to compile all the needed information for you to file your Form 1040 for the 2020 tax year, no problem! You can simply complete a Form 4868 extension. With our easy and user-friendly application, the process takes only a few minutes and saves you a lot of worrying!

Have you heard of our Express Guarantee? It's just another new feature that takes the risk out of your extension filing.

About Form 4868
First, let's talk about the Extension Form 4868 and how it works. The Form 4868 is a pretty easy form to file as long as you have all the necessary information. You must complete your request for an extension and submit it to the IRS on or before the original deadline of your form.

In this case, the deadline to file Form 1040 is May 17, 2021, therefore you must file the Form 4868 no later than May 17, 2021. The IRS will not even consider accepting your extension past this point.

It is also important to note that the extension refers specifically to your tax return, not any tax that you owe the IRS. This balance must be paid on the original deadline. No worries, ExpressExtension offers methods for you to make your payment while filing your extension.

Generally filing an extension 4868 successfully will provide you with an additional 6 months to file your return, taking your new deadline out to October 15, 2021. However, this year the IRS gave every taxpayer an automatic extension until May 17, 2021.
Since they provided you with an extra months you can now request an extension for an additional 5 months. This may seem confusing at first, but essentially your extended deadline will still be October 15, 2021.

What is the Express Guarantee?
Now that we've covered what you need to know about the Form 4868, it's time to introduce you to our Express Guarantee. Here at ExpressExtension, our team is taking the guesswork out of e-filing your extension. We are taking this concept to the next level by offering you an Express Guarantee.
This means that clients who file Form with ExpressExtension and are rejected by the IRS, citing the error code R0000-902-01, will receive a full refund. This error code indicates that a duplicate form was filed.
If your form is rejected for any other reason by the IRS, you are able to correct and retransmit at no additional charge.
Ready to begin e-filing your Form 4868 and extend your personal income tax deadline? Get started today with ExpressExtension!