File Your Personal and Business Tax Extensions Risk-free with our Express Guarantee!
The deadline to file is April 18, 2023!

|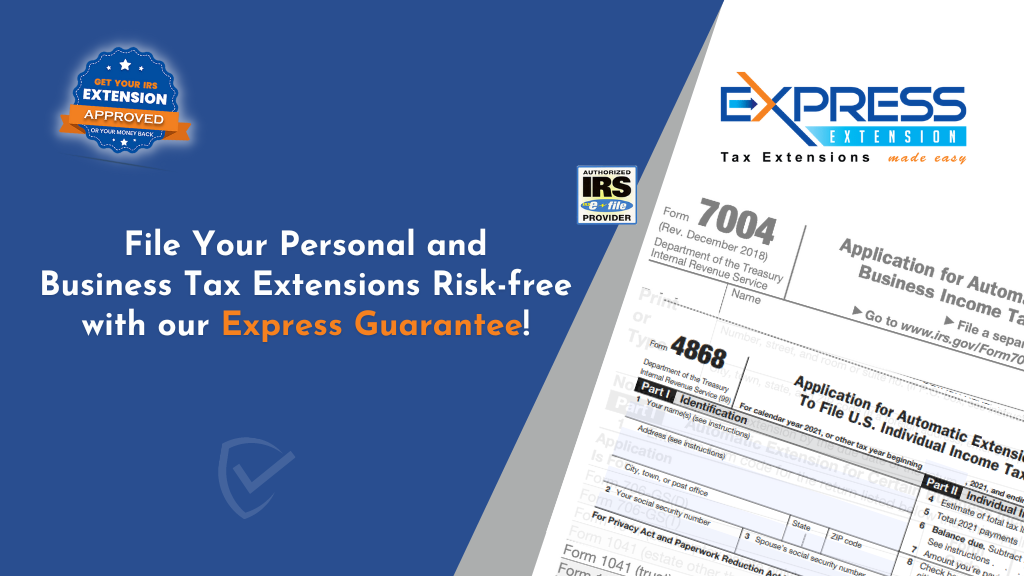 Tax filing is never easy! But it's inevitable. April 18th is an important day this month in terms of tax filing. First, it is the deadline to file personal tax Form 1040 for the 2022 tax year. Second, it is also the deadline to file C-corp tax return 1120, Trusts and Estates return 1041, and certain other business tax returns.
We are just days out from the filing deadline, now is the time to file an extension to avoid the stress of rushed filing. With ExpressExtension, the process is easy and secure. Plus we offer great, unique features like our Express Guarantee to take the risk out of filing your tax extension.
ExpressExtension – A One-Stop Solution For Filing Tax Extensions!
As an IRS-authorized e-file provider, we pride ourselves on providing you with a simple and secure way to file your business and personal tax extensions. You can complete and e-file Personal tax extension Form 4868 and business tax extension Form 7004 in minutes using ExpressExtension.
When it comes to simplifying the filing process, ExpressExtension has you covered! Our Express Guarantee ensures that you are able to get your extension approved, or your money back.
How Does our Express Guarantee take the risk out of your filing?
Here at ExpressExtension, our team is taking the guesswork out of e-filing your extension. We are taking this concept to the next level by offering you an Express Guarantee.
This means that when you file your Form 4868 or 7004 with ExpressExtension, and it gets rejected by the IRS as a duplicate return, you will get an automatic refund of your filing fee. The IRS error code that denotes this type of rejection is R0000-902-01.
More Exclusive Features from ExpressExtension!
In addition to the Express Guarantee, ExpressExtension offers several more features for easy e-filing!
File From any Device – You can e-file your extension form on any device, such as a Desktop, Mobile, or Tablet.

Option to Pay Taxes Due – When you file your extension with us, you have the option to pay your taxes due (if any).

Retransmission of Rejected Returns for Free – If your extension form gets rejected by the IRS for any reasons other than duplicate returns, you can fix the errors and retransmit the return at no extra cost.

Dedicated Customer Support – Our team of experts is always here to take care of any issue you may face during the filing. You can reach out to us via live chat, phone, and email.
Are you ready to start filing your extension today? Get started with ExpressExtension now to extend your business and personal tax return deadlines for up to 6 months!