Today is the Deadline to File an Extension for Form 1040-NR
Easily file your extension by midnight!

|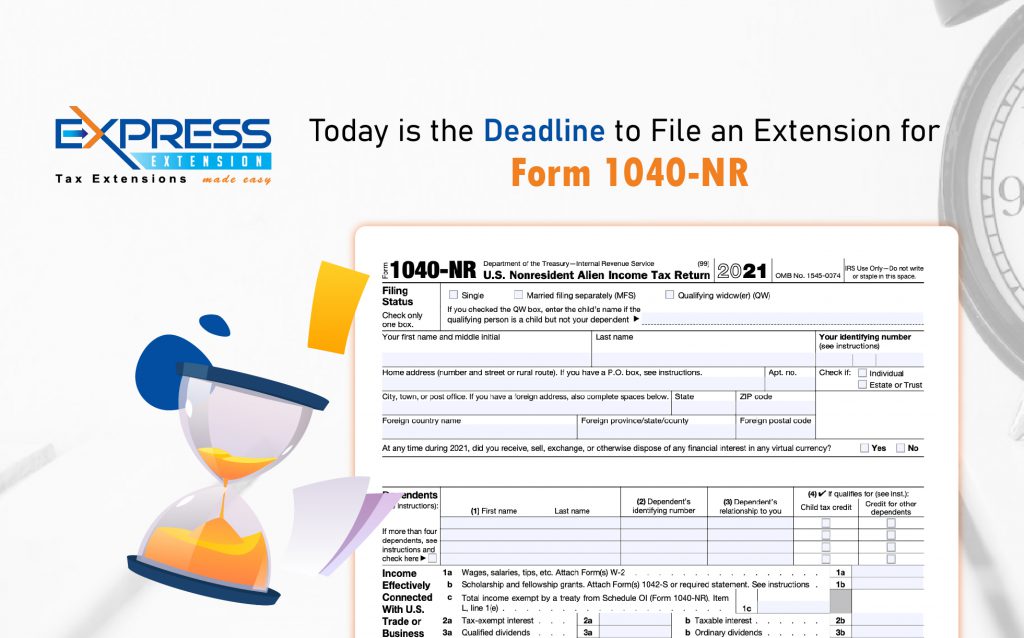 Tax Day was back in April for most taxpayers, however if you're required to file Form 1040-NR, your deadline is today!
The IRS requires that filers of the Form 1040-NR must complete their forms by midnight on June 15, 2022. 
While this deadline is hours away, it's not too late to file an extension! 
What is Form 1040-NR?
Form 1040-NR is the U.S. Nonresident Alien Income Tax Return. This must be filed by any individual who is considered to be a nonresident alien doing trade or business in the U.S during a given tax year.

What is Form 4868?
Form 4868 is the IRS tax extension that is used to request personal income tax extensions. The Form 4868 is an automatic extension, the IRS doesn't require any explanation or justification from filers seeking additional time to file their tax return.

As long as you complete your extension correctly with accurate information, the IRS will more than likely approve your extension.

How Do I File Form 4868?
There are two methods available for filing the Form 4868. You can file electronically or mail a paper copy into the IRS. Not only is the IRS able to process your form at a much faster rate, but you can get instant updates using this method.

Instead of sitting in a mail bin in the IRS backlog, you will know almost immediately whether your extension was accepted or rejected. If it was rejected, this gives you much more time to correct the errors and retransmit the extension.

File in minutes with ExpressExtension!
With ExpressExtension, you can count on a fast and easy filing process. Our software will walk you through the process step-by-step. Need to make an estimated tax payment? You can do so easily and securely by Electronic Funds Withdrawal (EFW) or Electronic Federal Tax Payment System.

What if your IRS Form 4868 is rejected by the IRS? ExpressExtension won't leave you hanging, we will provide you with an error code to indicate your filing error. Then we will allow you to retransmit your form at no additional charge.

There you have it, there is a last minute solution for your personal income taxes! You can file your extension today with ExpressExtension!