What Partnerships Need to Know About Form 7004 for Tax Year 2021
File an extension in minutes with ExpressExtension!

|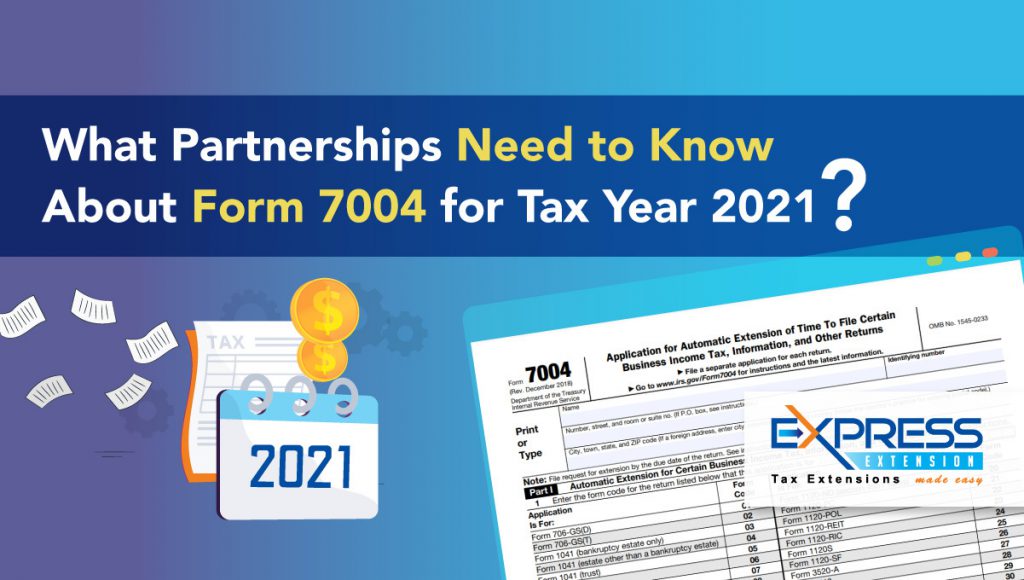 It's hard to believe that March is already here. It probably feels like you were handling your year-end filing and distributing Forms W-2 and 1099. There are some important IRS tax deadlines coming up this spring, will your business be prepared?

If your business identifies as a partnership, your business income tax return is due to the IRS by March 15, 2022, if your business operates on a calendar year schedule.

If your business would benefit from additional time to prepare your business taxes, there is an easy option, filing a Form 7004 Extension!

What is the Form 7004 Extension?
The Form 7004, Application for Automatic Extension of Time to File Certain Business Income Tax, Information, and Other Returns, with the IRS, is exactly what it sounds like. This is an automatic extension that allows businesses, including your partnership, to apply for up to an additional six months to file their tax returns. 
Despite common misconceptions, the IRS doesn't require you to provide a reason for filing your extension, nor do they hold any grudge against you for doing so. 
For a complete guide to filing Form 7004, check out this blog!
What IRS Form Should Partnerships File?
Business entities that are classified as a partnership, are generally required to file Form 1065, U.S Return of Partnership Income. This return reports the income, losses, gains, credits, deductions, and various other information related to the operation of the partnership. 
In addition to Form 1065, partnerships must attach a Schedule K-1 for each partner. The Schedule K-1 provides a summary of each partner's shares within the partnership, as they must share this information on their personal income taxes. 
What is the Filing Deadline for Form 1065?
The deadline for filing Form 1065 is based on the partnerships' fiscal year. If the business operates on a calendar year, then the deadline for filing is March 15, 2022. 
All other businesses are required to file with the IRS no later than the 15th day of the 3rd month following the close of their tax year. 
Form 7004 is an Automatic Extension!
Understandably, many partnerships may need to delay their filing deadline in order to gather the needed information. To do this, partnerships should file a 7004 Form. 
As long as you file Form 7004 with accurate information before your original filing deadline, the process will be simple and straightforward. The IRS doesn't require you to provide any official reason for filing your extension and when filing electronically, you can receive instant IRS updates. 
Click here to find more about Partnership Extension. 
Get Started Now with ExpressExtension!
It is important to know that tax payments are not included in your extension. You will need to make a payment to the IRS regardless of whether or not you obtain an extension. With ExpressExtension, your e-filing process is easy and accurate. 
Not only does our application make it possible for you to complete your 7004 Form in minutes, but if your form is rejected by the IRS, you are able to correct and retransmit it at no additional cost!
We offer an ExpressGuarantee, that you won't find with other providers! If your IRS Form 7004 is rejected as a duplicate filing, we will refund your filing fee. Our team is here to ensure that you are able to file your extension successfully. 
To get started, create an ExpressExtension account today!