Extend Your Form 1120-S and 1065 Deadlines by Filing Form 7004 with ExpressExtension!
Get started with your Form 7004 extension today!

|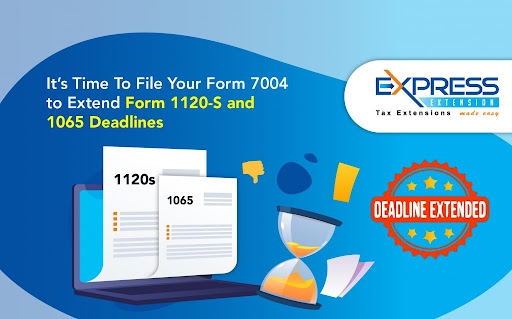 March has arrived, spring is in the air and so are your upcoming business tax return deadlines with the IRS!
Yes! Most businesses have March 15, 2023, as their deadline to file their income tax returns. Most common among these are partnerships filing Form 1065 and S-corporations filing Form 1120-S.
If you have your business tax return due by March 15th and if you think it's difficult to file your business tax returns on time, don't worry, it's not too late to file a Business Income Tax Extension Form 7004.
This is an automatic extension, which means the IRS doesn't require you to provide any explanation for requesting an extension. All you need to do is file an accurate extension Form 7004 by your original deadline.
Why File an Extension Form 7004?
You may think that there is enough time to prepare your tax returns. But time runs out before you know. Filing an extension provides you with that extra time to gather the information needed to complete your tax return.
Rather than missing out on the deadline and paying penalties, filing an extension beforehand is obviously a better option.
Filing Form 7004 will provide you with an extension of up to 6 months to file your business tax returns with the IRS.
Does this Extension Apply to Tax Payments?
No! When you file an extension Form 7004 with the IRS, only the deadline to file your business tax returns will get extended.
If you have any tax balance dues, you are required to pay those within the original deadline, as this extension does not apply to tax payments.
What Information is Needed to file Form 7004?
Filing Form 7004, Application for Automatic Extension of Time To File Certain Business Income Tax, Information, and Other Returns, is actually simple, and not a lot of information is required,
Here is the information you will need:
Your basic business information, such as Name, EIN, and Address
The tax form for which you are requesting an extension of time
The start and end date of your tax year,
Your estimated tax balance due
Click here to learn more about 7004 instructions.
File Form 7004 in Minutes with ExpressExtension!
Are you ready to start filing your Form 7004 with ExpressExtension? Not only do we offer a simple and speedy filing process, but we also provide updates on the status of your extension with the IRS.
Under our Express Guarantee, if your Form 7004 filed with us got rejected by the IRS as duplicate filing, you can get your money back.
Also, ExpressExtension allows you to make a tax payment while completing your extension easily. You can choose to make your IRS Tax Payment either using Electronic Funds Withdrawal (EFW) or the Electronic Federal Tax Payment System (EFTPS).
Avoid the hassle of last-minute filing and IRS penalties by E-filing Form 7004 with ExpressExtension today.