What is Electronic Postmark & How Does It Help You?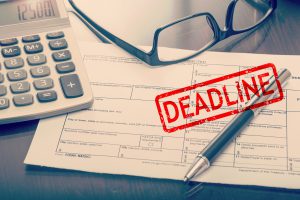 Pony express?  While legendary, this group of respectable riders and hardy horses only lasted 18 months.  We've moved on quite a bit since 1860, with new technology coming forward to send our salutations quicker than lickety-split.
Due to our modern conveniences, we not only have email but also e-filing for taxes.  If you're staring down a deadline, this last bit is important to you.
Back in the day, a mark was stamped in red on an envelope, much like wax seals in the 16th century, when letters were delivered hand-to-hand. However, the postmark from the contemporary courier system couldn't be chipped off with a sharp letter opener. This mark was official, and it let the recipient know the exact date and even time when the item had been posted.  Hence, postmark.
Does my tax form have a tattoo?
Well, sort of.  When you e-file an IRS tax form online, there is an electronic mark that has the date and time that your return was e-filed. Just like the stamped postmark on "snail mail," this electronic postmark is based on the time zone where you live.
The electronic postmark is an accurate accounting for when you filed your IRS tax form.  It can mean the difference between meeting the deadline, or not.
Don't dismiss the details.
Depending on where you live, be sure to change the electronic postmark to the time zone that applies to you.
This is important because IRS deadlines are set in stone, especially when trying to avoid penalties and fees. There's no wiggle room.  You want to avoid getting fined when things are down to the wire and you're filing at the last hour.
According to the IRS, if the electronic postmark is on or before the deadline for filing, they will treat your return as timely filed, even if they receive your return after the deadline.
If you are e-filing from another time zone, your return is still considered timely if it is filed by midnight, your local time, on the deadline date.
But you have to make sure that you set the electronic postmark to reflect the time zone where you live.
An Extension Can Help
Are those minutes slipping through the hourglass? Regardless of your time zone, if you're running out of time, it's best to e-file a tax extension with ExpressExtension. We offer extensions for personal, business, and tax-exempt returns. You e-file from any location by downloading our FREE app for iOS and Android tablet devices or visiting our mobile site to e-file using any mobile browser.
Expert assistance is available at our Rock Hill, South Carolina office. Feel free to contact our live professionals at (803) 514-5155, Monday through Friday from 9am to 6pm EST. You can also either e-mail us at support@expressextension.com or chat with us at www.expressextension.com for any further assistance e-filing your extension forms.
File your Tax Filing Extension with ExpressExtension today.  Don't delay…