File your Extension Form 7004 Risk-free with an Express Guarantee
Take the stress out of your extension!

|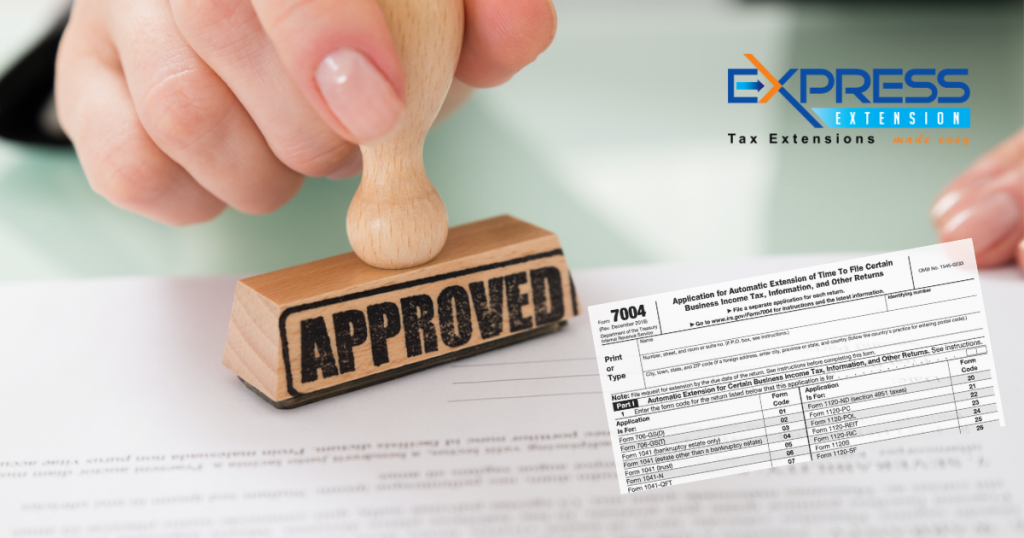 The past year has been filled with uncertainty, there's no doubt about that. Now that it's time for businesses to file their income tax returns, particularly those organized as partnerships and S-corporations, it's time they consider filing an extension.

To take the risk and uncertainty out of this process, and offer these businesses peace of mind, ExpressExtension now offers an Express Guarantee for extension Form 7004.

This is how the Express Guarantee can take the stress out of your tax season!

Some Background on Form 7004
The Form 7004 is the Application for Automatic Extension of Time To File Certain Business Income Tax, Information, and Other Returns. When businesses file this form both accurately and by the original deadline of their business income tax return, they are granted up to 6 additional months by the IRS to file their tax return.

For example, both partnerships filing Form 1065 and S-corporations filing Form 1120-S are able to file an extension of time with the IRS. As long as the information included matches the IRS records and is filed no later than March 15, 2021, they will receive their automatic extension with no additional questions asked by the IRS.

Remember, the Form 7004 only applies to your income tax return, not the tax payment that you may owe the IRS. This payment must be made to the IRS by the original deadline to avoid penalties and interest.

What is the Express Guarantee?
Now that we've covered what you need to know about the Form 7004 before filing for your business, let's talk about our Express Guarantee. Here at ExpressExtension, our team is all about taking the guesswork out of e-filing your extension. We are taking this concept to the next level by offering you an Express Guarantee.

This means that clients who file Form with ExpressExtension and are rejected by the IRS, citing the error code [F7004-011-03], will receive a full refund. This error code indicates that a duplicate form was filed.

If your form is rejected for any other reason by the IRS, you are able to correct and retransmit at no additional charge.
The Benefits of Filing with ExpressExtension
In addition to our new Express Guarantee, ExpressExtension has so many great features that keep our clients coming back to file their extensions year after year! We offer a simple and easy e-filing process. Just follow our application step by step as it walks you through the form, that's all there is to it!

When you transmit your Form 7004 to the IRS you also have the option to schedule a secure payment via Electronic Funds Withdrawal (EFW) or the Electronic Federal Tax Payment System (EFTPS).

We also offer specialized features for tax professionals, including a dashboard that allows them to track the extension process of each client at a glance and volume-based pricing.

On the fence about filing an extension this year? ExpressExtension takes out the risk completely! Get started today by creating your free account.