It's Time To File Your Form 7004 to Extend Form 1120-S and 1065 Deadlines
Requesting your Form 7004 extension is easier than ever!

|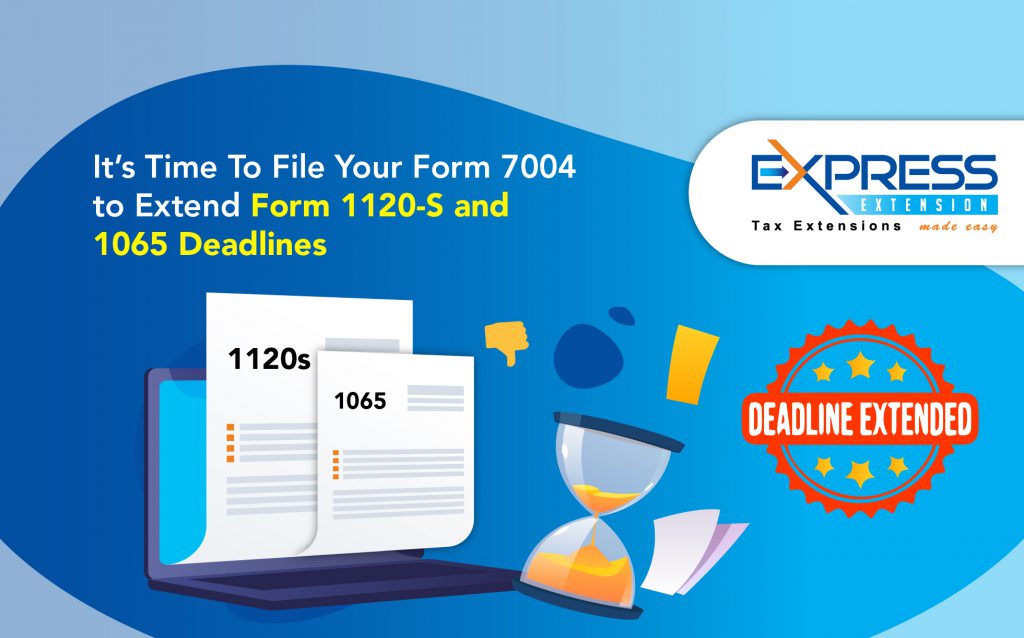 The deadline to file your business income tax return is nearly here. As you may know, many types of businesses must file their income tax returns by March 15, 2022. Most common among these are partnerships filing Form 1065 and S-corporations filing Form 1120-S.

If meeting this deadline comfortably seems like a long shot for your business, don't worry, it's not too late to file a Business Income Tax Extension Form 7004. This is an automatic extension, meaning the IRS doesn't require any explanation, just an accurate form filed by your original deadline. For many businesses, this deadline is March 15, 2022.

Why File an Extension Form 7004?
If your business may need some extra time to gather the information needed to complete your tax return, filing an extension is a great way to bring you peace of mind. As long as you complete Form 7004 before your original deadline and make any outstanding IRS tax payments, the IRS has no problem with your extension, it is automatic!

By filing an extension with the IRS you are able to avoid unwanted penalties that will begin to pile up if you fail to file your tax return on time. These penalty rates will vary depending on which form the IRS requires you to file and how late it is filed.
How to File Form 7004
Filing Form 7004, Application for Automatic Extension of Time To File Certain Business Income Tax, Information, and Other Returns is surprisingly simple! Here is the information you will need to get started:
Your business type (S-corporation, partnership, etc.)
Your basic business information like your name EIN, and address (remember, for approval this information must match what the IRS has on file)
Which tax form you are requesting an extension for
The start and end date of your tax year, do you operate on a calendar year?
Your estimated tax payment
Click here to learn more about 7004 instructions.
Does this Extension Apply to Tax Payments?
When you file an extension with the IRS, this applies to your tax form itself, not your tax payment.
Did you know that ExpressExtension allows you to easily make a tax payment while completing your extension? You can choose to make your IRS Tax Payment using our convenient IRS payment options.
You can submit your payment via Electronic Funds Withdrawal (EFW) or the Electronic Federal Tax Payment System (EFTPS). Both are secure and ensure that your payment is submitted to the IRS with your extension.
File Form 7004 in Minutes with ExpressExtension!
Are you ready to start filing your Form 7004 with ExpressExtension? Not only do we offer a simple and speedy filing process, but we also provide updates on the status of your extension with the IRS. 
For the ultimate stress-free filing experience, avoid IRS penalties today by E-filing Form 7004 with ExpressExtension.