Extend Your 990 Deadline Until November 15, 2021 By Filing Form 8868 Today!
Calling all tax exempt organizations!

|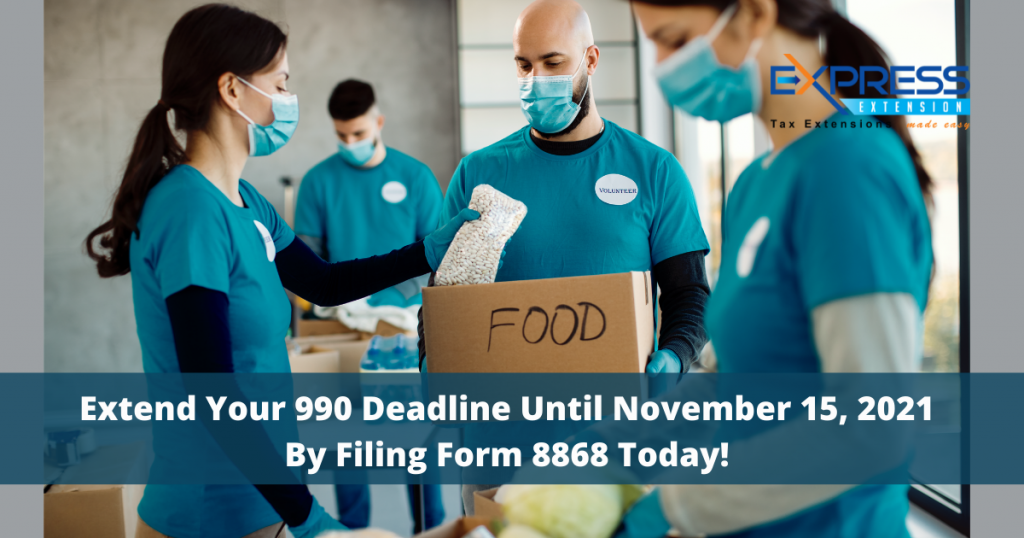 It's that time of year again, all tax exempt organizations operating on a calendar year have a deadline today. Whether this deadline completely snuck up on you or you have been procrastinating (we all do it sometimes), it's time to act!

If you are unable to file today that's alright, you simply need to file a Form 8868 extension form before midnight.

Before you begin to panic, this extension form is fairly simple, especially when you file with ExpressExtension! Here is what you need to know to get started.

Background information on Form 8868
The Form 8868 is the Application for Automatic Extension of Time To File an Exempt Organization Return. This form is filed by tax exempt organizations that are seeking additional time to complete their information returns and file them with the IRS.
The 8868 Extension is an automatic one. Therefore, if you complete this form accurately and on-time, and pay any balance due to the IRS, your form will be accepted and the IRS will grant you an extended period to file.
Remember, to get your extension you must complete this request and e-file it today!
What Forms can be Extended with 8868?
The Form 8868 can be filed in regard to the following forms:

Form 990 or Form 990-EZ
Form 990-BL
Form 4720 (individual)
Form 990-PF
Form 990-T (sec. 401(a) or 408(a) trust)
Form 990-T (trust other than above)
Form 990-T (Corporation)
Form 1041-A
Form 4720 (other than an individual)
Form 5227
Form 6069
Form 8870
Please note that the Form 990-N, also known as the 990 e-postcard, is not eligible for an extension, it must be completed today to avoid IRS penalties.
E-file your Extension Form 8868 with ExpressExtension!
Completing your 8868 with ExpressExtension is quick and easy. You won't have to worry about the status of your Form 8868 because we provide you with instant updates!
First of all, you don't have to provide any reason to the IRS for filing this extension, just fill it out! Here is all the information you will need to e-file your Form 8868 in minutes with ExpressExtension.
Your organization's basic details like the name, EIN, and address.
Know which extension you want to complete (Form 8868)
Enter your tax details, for example, if you have any tax payments.
With our step-by-step instructions, you can complete this form easily and accurately. Plus, if your form is rejected for any reason, you can edit and re-transmit the form at no additional cost.
Ready to get started? Create your free ExpressExtension account today!